Longtown depot campaigners to meet minister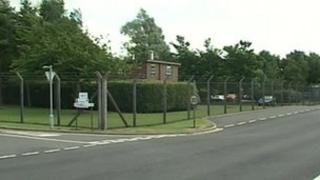 Campaigners fighting to save a Cumbria munitions depot under threat of closure are to meet Defence Minister Peter Luff to plead their case.
The Ministry of Defence is considering the future of the Longtown site which employs 300 workers.
Members of the Prospect union and Cumbria County Council will try to persuade the minister to help save the site at the meeting on Wednesday.
The MoD said a decision on the future of the depot will be made in September.
The campaign group believes that closing the Longtown depot would be uneconomical and damaging to the local economy. It estimates the loss of 300 jobs will cost the economy £16.3m a year.
Campaigners have also challenged the MoD's figure of more than £100m that it said would need to be spent on the site to keep it viable.
They believe a £2m upgrade would be enough to keep it running.
The council's cabinet member for economic development, Councillor Tony Markley, said he wanted to invite Mr Luff to Longtown to see how important the site is to the people of the town.
'Crisis point'
He said: "These 300 jobs are important to Cumbria and £16.3m is important to sustain the economic viability of the Longtown area and Cumbria."
Neil Scott, of Prospect, said closing the site would be "devastating".
He said: "The morale isn't great at the moment because there are 300 jobs at risk plus 50 support jobs as well.
"We are deeply concerned and we are coming now to a crisis point in the negotiations. We are moving down to London today to try to influence the minister to make a decision to retain the site."
A spokesman for the MoD said: "The MoD is conducting a study to determine the most effective use of its munitions storage facilities across the country, this includes Defence Munitions Longtown.
"The study will be based on balance of investment, operating costs and our military capability needs.
"No decisions on the future of Defence Munitions Longtown have been taken. A formal decision is expected in summer 2012."