Paul Tolson plans Africa cycle trip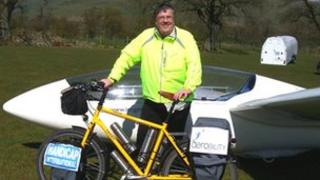 He admits to being unfit and overweight.
But that has not stopped former geography teacher Paul Tolson from getting ready for one of the world's most gruelling challenges - cycling the length of Africa.
The 50-year-old divorcee from Frizington, Cumbria, describes the plan as "a bit of a risk".
Through his work as an occupational therapist, Mr Tolson said he had seen what disabled people had to contend with and wanted to help.
Mr Tolson, who has also piloted gliders, said: "I'm very lucky. I have been able to fly and ride with relative ease. But I've met people who don't get the chance, and I want to raise money for the people giving them those opportunities."
This is the first in a series of journeys that will see Mr Tolson realising his ambition of travelling to every gliding centre in the world by bicycle - a project that will take him well into his retirement years.
He wants to raise £25,000 for Aerobility - a charity which helps disabled people fly an aeroplane - and more than £100,000 for Handicap International, which gives aid to people around the world.
Mr Tolson said: "I've always wanted to travel the world, and in the past few years I've just thought: 'I'm not getting any younger so I'd best get on with it'
"I am overweight, but I have been working on it. It is a bit of a risk, but I used to be out of breath after a mile on a bike, but now I can do 10 miles a night."
The journey from the top to the bottom of Africa is approximately 11,000 miles, covering a variety of terrain, including some dangerous sections of Africa.
Mr Tolson sold most of his possessions and saved for several years to fund the journey. He said he has budgeted for around £10 to £15 a day, with a total cost of around £15,000 as he plans to take up to three years to complete the journey.
He will be carrying everything he needs on his bike and will camp or stay with various communities as he does volunteer work with them.
His bike, which he describes as the "third most expensive vehicle" he has ever owned, cost £3,000 and is built for round-the-world trips by a small company in Wiltshire.
He said: "I'm only leaving my mum back in the UK. I'll probably miss fish and chips and a nice bed at night while I'm away, but other than that I'm looking forward to the adventure.
'Know the dangers'
"I'll be taking my time, taking up to three years to do it. I want to do it right. I've had lots of advice and got in touch with people who have done similar before to make sure I know the dangers.
"What really stood out from what people have said is that people, in general, are good and will look after a traveller. I'm hoping to experience that."
Mr Tolson will begin his journey on 1 July, departing from Germany, he will travel down to Morocco, then across to Africa's most northern point, Ras ben Sakka in Tunisia.
He then intends to cycle all the way to Cape Agulhas, South Africa, at the southern tip of Africa in an unbroken journey. He believes no one has accomplished this before.