Silloth Green in Cumbria opened after revamp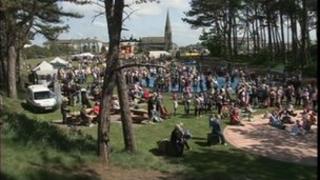 A Cumbrian green has been officially opened after more than £1m was spent on transforming it.
The Silloth Green project has given the area, which is a focal point for the town, a facelift and includes restoring the Pagoda and creating an events area.
It received £1.1m from the Heritage Lottery Fund and £100,000 from the Rural Development Programme for England.
Crowds of people were at the reopening, which came after a 10-year project.
'Hugely popular'
Other elements of the revamp have been the Edwardian toilets, which were derelict, an adventure play area, improved lighting and new park furniture.
The funding also paid for a community engagement officer who will work to promote the green as a valuable resource for people in the town.
Cumbria County Council cabinet member for economic development and Silloth deputy mayor, Tony Markley, said: "The Green is a hugely popular focal point of Silloth, we really are blessed to have such a wonderful area, so for it to receive a facelift such as this is a huge boost for the community.
"I am confident that the new look Green will attract even more visitors to our coastal town."