Appleby Horse Fair river washing area closed amid rain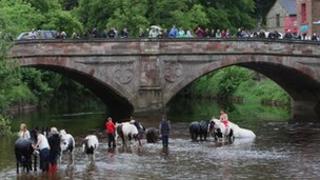 Heavy rain overnight has had an impact on an annual gathering of thousands of Gypsies and travellers in Cumbria.
Organisers of the Appleby Horse Fair have closed the main river horse-washing area amid safety concerns.
A road closure has also been put in place at the Market Field to prevent vehicles from going on to the area due to the extremely muddy conditions.
Owners traditionally wash their animals in the River Eden before riding them at speed in front of potential buyers.
The closure decision was made after following the daily meeting of the Appleby Fair Multi-Agency Strategic Co-ordination Group.
Cathy Hyde, from the RSPCA, said: "The river level was reviewed at an early stage this morning and due to the level it was considered too dangerous to allow people to wash the horses in the main area.
"This will be reviewed on a regular basis."
The annual fair, which opened on Thursday and ends on Sunday, has existed under the protection of a charter granted by King James II since 1685.
It is usually attended by about 50,000 Gypsies, travellers and spectators.