Rain fails to dampen Appleby Horse Fair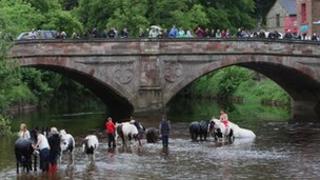 Organisers of the Appleby Horse Fair have hailed the event as a success, despite heavy rain which forced the closure of the river for a day.
The annual Gypsy and traveller event opened on Thursday, and the last of the 50,000 visitors are now leaving.
Police made 28 arrests, mostly for low-level offences, 20 fewer than 2011.
A daily forum allowed representatives from local communities and Gypsy and Traveller sites to provide feedback and address potential problems.
Gypsy representative Billy Welch said: "This year's fair has not been damped by the weather, everyone has enjoyed themselves and the low number of arrests shows that people have been more responsible and I am proud of this.
"All of the hard work by everyone helped people have had a wonderful time."
Robin Hooper, chief executive of Eden District Council, said: "The weather does have an impact on Appleby and it is something we can never fully plan for.
"This year it has been rain which caused issues with the river and muddy conditions.
"The river levels on Saturday were of great concern and the decision to close the main part of the river was made based on people safety and animal welfare.
"After seeing the levels recede, the river was opened quickly on Sunday morning and the feedback received was very positive, with overall co-operation and understanding at the decision."