Cumberland Infirmary fails cleanliness standard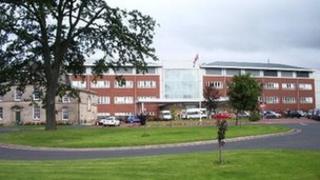 The cleanliness of some public areas at a hospital in Cumbria failed to meet national standards, according to documents seen by BBC Radio Cumbria.
A report showed that the mortuary at Carlisle's Cumberland Infirmary was cleaner than a thoroughfare between two wards.
Unison blamed it on staff having to cover larger areas and a number of unfilled vacancies.
The health trust said there had been no reduction in front-line cleaning staff.
'Prestigious award'
Cleaning standards set by the National Patient Safety Agency states that very high risk areas such as theatres and the Special Care Baby Unit should aim for scores of 98%.
High risk areas such as wards have a target of 95%, and significant risk areas such as outpatients must reach 85%.
However, from January to March the thoroughfare from Maple C and D to the lifts on the second floor was rated at just 50%.
This compared to a rating of 87% for the mortuary.
Sean Gibson, from Unison, said: "In 2008 you had Interserve winning a prestigious award for how well the wards were being kept.
"At that stage you had teams of three on each ward, there was a pride in their work.
"Because of constraints, and I would suggest profiteering, what's happening now is these teams are being diluted down to one... sometimes two, and being moved from ward to ward."
'All time low'
He added that members of the union had reported that they were being asked to cover other shifts.
"A lot of vacancies haven't been filled," he said.
The North Cumbria University Hospitals Trust and Interserve said in a statement: "At the Cumberland Infirmary, Interserve carries out audits for the areas they are responsible for and the trust carries out a separate weekly audit with Infection Control, Interserve and a member of the Patient Panel.
"Any areas which receive a score lower than expected on the day of auditing is then revisited the following day to ensure any problems have been rectified; however the initial lower score must remain in the report.
"Interserve has not reduced any of their front-line cleaning staff in the Cumberland Infirmary and the trust's infection outbreaks are at an all time low."