Cumbria cleans up after floods whilst disruption continues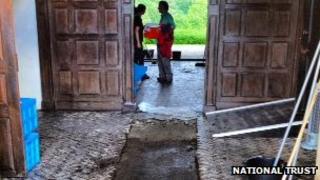 Residents and business owners across Cumbria continue to clean up and count the cost of the torrential rain that passed across the county on Thursday.
Conservators from the National Trust are due to visit Sizergh Castle, near Kendal, where water damaged wooden flooring and parts of the garden.
Rail users are experiencing delays due to damage to overhead cables or tracks.
Cumbria Fire and Rescue Service said crews were called out to 60 flood-related incidents.
John Darlington, National Trust's regional director said: "A very heavy, very localised storm resulted in flooding through the main entrance into the hall and out the other side.
"Thankfully no furniture was damaged and the trust's regional conservators and senior management are on site today to fully assess the damage."
Joanne Callister from the Furness Tavern in Askam in Furness said she has lost £1,000 worth of stock that was in her cellar.
Damaged track bed
The Environment Agency said that the past three months had been the wettest on record across England and Wales.
Disruption on the West Coast mainline continues as trains face delays of up to an hour between Glasgow and Carlisle because of a problem with overhead wires.
Engineers say further work will have to be carried out on the power line problem during the night.
Work is scheduled over the weekend on the Newcastle to Carlisle railway line to fix the track bed damaged in the storms.