Keswick pumping station work is paused for Convention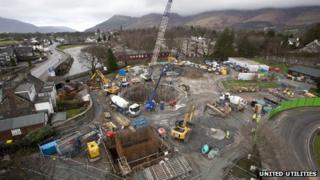 Work on part of a multi-million pound flood scheme in Cumbria has been suspended to allow for a religious convention.
United Utilities is building a large underground pumping station in the grounds of Keswick's Rawnsley Centre as part of a £23m flood scheme.
The work site has been vacated and covered in stone and bark so it can be used for the Keswick Convention.
The three-week event starts on 14 July and attracts thousands of Christians to the area.
'Beautiful tourist town'
The annual Bible convention has been held in Keswick since 1875.
United Utilities project manager Simon Povey said: "Working in a beautiful tourist town like Keswick means we have to plan our schedules carefully to try to make sure we don't spoil people's enjoyment.
"By splitting our engineering work into stages we were able to move off The Rawnsley Centre for the summer. "
United Utilities' work in Keswick will be continuing over the summer, but, for the most part, will be in areas away from the public.
According to the company the project will improve the quality of water in Bassenthwaite Lake by reducing sewer overflows in heavy rains and boosting treatment and capacity at the sewage works.
They say it will also alleviate the risk of sewer flooding by increasing the capacity of the sewers around Greta Grove.
Work is due to finish in the area by June 2013.