Pigeon feeding convictions overturned for women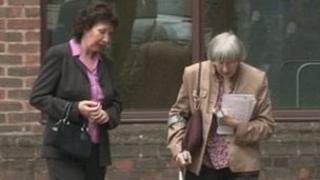 A 78-year-old woman and her daughter have had their convictions for failing to stop feeding flocks of pigeons at their home in west Cumbria overturned.
Monica and Janet McIntosh were served with an abatement notice by Allerdale Borough Council in June 2011 following complaints by their neighbours at Broadacres, High Harrington.
In December they were convicted of flouting it and fined £500 each.
Following an appeal at Carlisle Crown Court, their conviction was overturned.
Neighbours had complained that the birds were causing an "intolerable nuisance" with droppings and noise.
They said this had continued even after the abatement notice.
However, the judge, recorder Tim Smith, said there was not enough evidence to show that the pair had continued to feed the pigeons after being ordered to stop.
Speaking outside court, Janet McIntosh, 48, said all they had done was feed garden birds that had gone to their property, after council officials had told them they could.