'Too steep' Kirkstone Pass closed overnight for repairs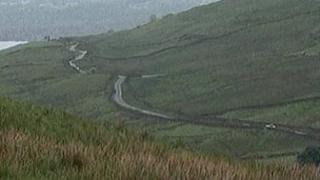 A road in Cumbria, one of the highest in the UK, has had to close overnight for repair work because it is too steep for temporary traffic lights.
The A592 Kirkstone Pass climbs to 1,489ft (454m) between Ullswater and the A591 near Windermere, and has a one in four gradient.
It will be closed between 21:00 and 07:00 BST for the next two weeks.
However, on Friday, Saturday and Sunday nights it will stay open, to minimise the impact on local pubs and campsites.
The county council said it had chosen night-time closures over temporary traffic lights because the narrow width and steep gradient would make a hill start difficult for coaches and HGVs.
A diversion will be in place during the works.