Carlisle traders seek seagull problem solution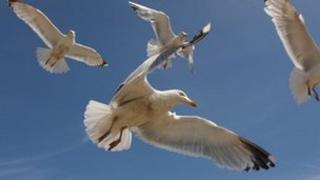 Seagulls have become a menacing presence on a Carlisle trading estate, business owners say.
Local firms in the Kingstown area of the town have held a meeting about the issue with city MP John Stevenson.
Ian Wheatcroft, branch manager at Ciceley Commercials, in Petersfield Road, said some staff at the firm used vans to make short journeys around the site to avoid being "dive-bombed" by the birds.
He said the problem had got worse in the last two years.
Carlisle City Council has advised businesses they can apply for free licences to allow them to use private pest control firms to deal with the problem.
It has also asked people to be more considerate with their rubbish.
Ian Lawson, whose kitchen business is based in Park Hill Road, said there were as many as 150 seagulls around the trading estate on some mornings.
"It's an absolute shambles," he said.
"It's a serious problem. The pavements are covered in gull muck, my lads were working in the back lane and they were covered in it."
'Territorial'
Mr Lawson fears customers could be put off visiting the estate.
He said: "Nobody likes walking through muck. If somebody comes here in a nice clean car and comes in to see me for half an hour and they go out and their car is covered they're not going to be happy."
Carlisle City Council said the birds could become "territorial" during the summer which is the mating and nesting season.
Businesses have been advised to contact private pest control companies.
A spokeswoman said: "Control measures for Herring Gulls and Lesser Black-backed gulls can be undertaken under a freely obtained General Licence from Natural England.
"Gulls are commonly seen on landfill sites but will also take advantage of other rubbish and litter left lying around that will contain food.
"By helping us to keep the streets clean the community can also help control the seagull populations."
However, Mr Wheatcroft said while some businesses could afford to pay for pest control, others could not and if individual companies tackled the issue the birds would only move on elsewhere on the estate.
"My own view is that the council should take hold of it and do it as the whole estate," he said.
"That's the only way they're going to cure it."