Beekeeper harvests honey at Cumbrian sewage works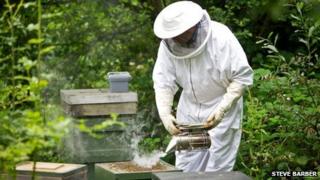 A Cumbrian beekeeper is hoping to harvest his first crop of honey next month from hives at a sewage works.
The four hives were set up at an unusual location at United Utilities works in Sandside Road by Mike Luke from Ulverston.
Mr Luke set up the hives earlier this year after spotting the potential for wild flowers in the area.
He said the unused areas of the works were like mini nature reserves, making them "perfect" havens for wild flowers.
Colleague and fellow bee-keeper Ken Shepherd has also set up a hive at Milnthorpe Waste Water Treatment Works.
He said: "I suppose being on a sewage works is good for the flowers, which is why it's good for the bees.
"Honey bees are responsible for almost 90% of the pollination of our crops, flora and fauna so they are the very cornerstone of biodiversity itself."