'Love at first sight' couple reunited after 47 years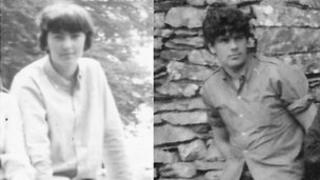 It was love at first sight for two teenagers who met by a lakeside in Cumbria - but it took them 47 years to finally get together.
She was on a camping trip with The Guides and he was with friends when they first met at Fell Foot Park near Newby Bridge in 1965.
For Angela Shadrack, who was 15 and from the Wirral and Ian Hutt, who was 19 and from Ulverston, it was the start of a friendship.
For the next three years they kept in touch by letter and met up several times.
However, the pair's lives parted in 1968 when Mr Hutt went to sea and they lost touch.
Then more than four decades later, chance brought them back together.
Mr Hutt, who was widowed in 2009, unknowingly rang the office of Ms Shadrack who was working in the area at the time as an occupational therapist and she answered the phone.
The 65-year-old said: "Not for one minute did I think it could be the same person."
After a few minutes talking each realised who the other was and the rest, as they say, is history.
'Fairytale come true'
They did not meet up for six months but Mr Hutt said they knew they were meant to be together.
"I think we both knew that first day when we met. We just sat there saying very little but it was as if we'd never been apart.
"We knew then there was something special in our relationship."
Ms Shadrack, 62, still has the letters they wrote to each other as teenagers.
She said: "I think it was love at first sight."
The couple got married on the 9 June and celebrated their wedding reception at Fell Foot Park - 47 years after they first met.
Mr Hutt said: "It is like a fairytale come true - it was fate. We still can't quite believe it. It was like we had never been apart."
Fell Foot Park is reopening as a pop-up campsite for the whole of August for visitors who camped there in the Sixties to come back and "relive their youth".