Funding for Cockermouth Roman settlement excavation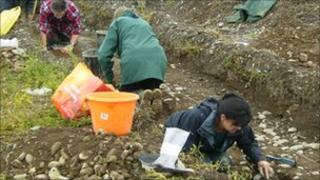 A Roman settlement found in the aftermath of the Cumbrian floods is to be fully excavated thanks to more than £360,000 of funding.
Roman treasures and the remains of a settlement were found near Papcastle in Cockermouth after floods devastated west Cumbria in November 2009.
Now, £367,700 from the Heritage Lottery Fund (HLF) will be used to carry out a three-year survey of the remains.
Project manager Mark Graham said it was "fantastic news".
'Positive legacy'
Artefacts, including pottery, metalwork, coins and glass, were discovered at the site, along with substantial stone and wooden buildings and the most complete Roman water mill yet recorded in Britain.
Sara Hilton, head of Heritage Lottery Fund North West, said: "Through this project, people from across the community will have the chance to get directly involved in the archaeological survey of this fascinating site.
"These remains at Derventio offer an unprecedented opportunity for us to explore and learn about Cumbria's Roman history.
"The floods of 2009 had a devastating impact, and we are delighted that our funding can bring about a positive legacy from that time."
RAF and lifeboat crews rescued scores of people from their homes when water levels reached 2.5m (8ft 2in) in Cockermouth town centre during the floods.