Longtown depot campaigners meet Peter Luff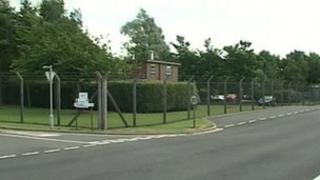 Campaigners fighting to save 300 jobs at a closure-threatened munitions depot said their meeting with Defence Minister Peter Luff was "constructive".
The minister, who was due to make a decision on the Longtown site next month, visited the depot on Tuesday.
A spokesman for Cumbria County Council said it was clear the minister was not taking the decision "lightly".
The MoD said the site needed investment, but Mr Luff said a decision would not now be made until December.
In May, members of the Prospect union and Cumbria County Council went to London to meet Mr Luff, who has the final say on the site's future.
A county council spokesman said: "The minister was all ears and he gave us a clear message that he had a lot to consider and the decision was not being taken lightly."
The Conservative leader of Cumbria County Council, Eddie Martin, said: "There is still a need for a munitions depot with all the expertise - we have 300 guys who are multi-talented and with a huge amount of expertise. Handling ammunition is not an easy task."
Campaigners believe that closing the depot would be uneconomical and damage the local economy. They estimate the loss of 300 jobs would cost the economy £16.3m a year.
The MoD said a decision was needed about the site as its current explosive storage licences would be withdrawn in 2014 and it required investment for continued long-term storage use.