Action needed after Carlisle's Cumberland Infirmary visit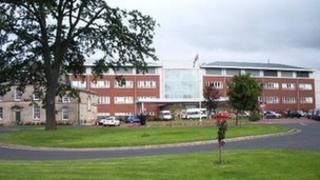 Dangerous equipment and unclean areas were discovered during an inspection of the accident and emergency department at Carlisle's Cumberland Infirmary.
But inspectors also found patients were receiving safe and appropriate care and were positive about their treatment.
The Care Quality Commission (CQC) said action was needed by North Cumbria University Hospitals NHS Trust.
The trust said it recognised there were issues to address and had already worked to make changes.
The inspectors also visited Whitehaven's West Cumberland Hospital and found it was meeting all the essential standards.
The report highlighted "attention is needed" at Cumberland Infirmary, after clinical waste bags, dirty laundry bags and refuse bags were found being stored in a dirty utility room.
Concerns were also raised about a lack of some equipment and about staff not completing mandatory training or getting enough support from managers.
However, the report also found that patients were getting appropriate care, with patients commenting that staff were helpful and polite.
Chris Platton, director of nursing, said: "We pride ourselves on delivering high quality care and support to our patients and we are delighted that this has been endorsed.
"However, we also recognise that there were issues to address following the visit and the staff have worked very hard to put plans in place and implement changes to ensure that all of the issues are being addressed."