Regrets over 'late' Cumbria tourism drive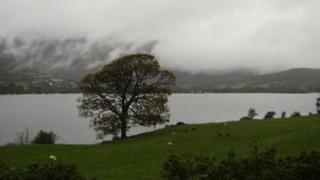 Tourism leaders in Cumbria have said they are disappointed a poster campaign in London to promote the area has started after the Olympics.
The £750,000 drive started on Monday but Cumbria tourism operators said that meant they had missed the opportunity of being seen by Olympic crowds.
Many Lake District business reported a slump in visitors during the Games.
The government said it had invested heavily in UK marketing and it expected the campaign to have a big impact.
A number of Lake District businesses said they had seen a big drop in international visitors during the Olympics with the knock-on effect from people choosing to avoid the UK completely.
'Great pity'
Andy Poole, chief executive of The World of Beatrix Potter Attraction, in Bowness, said: "I think any marketing for the Lake District is good news. It is debatable about the timing.
"There are still a lot of tourists in London at the moment and I think it is more a case of raising the profile of the Lake District for next year rather than seeing any real change in visitor numbers this year from this campaign."
Rory Stewart, the Conservative MP for Penrith and the Border, said it was "a great pity" that Olympics visitors had not been able to see the advertisements but he too believed there would be a spike in visitor numbers next year.
He said: "I do believe in general the Olympics is great for Britain and I think the Lake District will do well out of it in the long term. But for us this year it has been very sad and tourism is very crucial to our economy.
"But I think our area is so unique, so beautiful and I think overall the Olympics has really put Britain on the map and I think we will see a good return over the next few years."
A statement from the Department for Culture, Media and Sport said it had invested very heavily in promoting all parts of the UK as tourist destinations.
It said: "The £19.8 million from the Regional Growth Fund to help local marketing of destinations across the country complements this.
"Although it has come slightly later than originally hoped, the government expects it to make a significant contribution to boosting the tourism industry across all the UK."