Ladder fall lands Barrow MP John Woodcock in hospital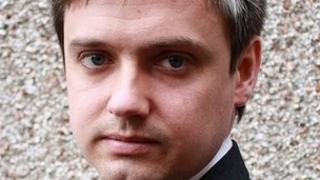 Barrow and Furness MP John Woodock has spent the night in hospital after falling off a ladder at his home.
The Labour MP told followers on the social networking site Twitter that he had been taken to accident and emergency after being "an eejit".
He thanked the paramedics who stretchered him from the "scene of eejitry" and said he had been "lucky".
Mr Woodcock tweeted: "Lucky escape after neck brace, CT scans & palaver. Staff superb. Me bashful."
He told parliamentary colleagues on Twitter that he had been trying to put the contents of his wife's boot in the attic at the time, describing it as "a valuable lesson".