Good Food Guide gives L'Enclume in Cartmel rare 10/10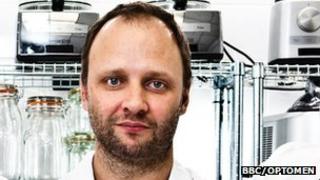 A restaurant in Cumbria is one of only two in the country to have been awarded 10 out of 10 by the Good Food Guide.
The Michelin-starred L'Enclume, in Cartmel, is listed second in the 2013 guide's top 10, behind Heston Blumenthal's The Fat Duck in Berkshire.
L'Enclume gained greater fame when it featured in comedian Steve Coogan's spoof restaurant review show The Trip.
Elizabeth Carter, the guide's consultant editor, said Simon Rogan's restaurant was "mind-blowing".
"He does incredible things with vegetables," she said. "He teases out flavour that you didn't know was there.
"It's because he's actually growing very carefully. He does say that a vegetable will be growing up at the farm until about 4 o'clock that afternoon and then you sit down and eat it a few hours later."
'Wildest dreams'
The guide also praises the "sheer simplicity" and "clear-flavoured perfection" of the restaurant.
Mr Rogan, chef patron of the restaurant, said he was "over the moon".
He said: "Never in my wildest dreams did I think we would get a perfect 10.
"It's brilliant for the team as now we are among very elite company who have achieved this status.
"But we will go on pushing forward with all the projects we have and try our best to make it even better."
L'Enclume moved into The Good Food Guide's top 10 in 2011, climbing to fourth from 13th position.
In 2012 it reached second place, with a score of nine out of 10.
During their visit to the restaurant in episode two of the Bafta-awarding The Trip, filmed in 2010, Coogan and fellow-comedian Rob Brydon likened a green liqueur they were served to "snot".
Mr Rogan was also one of the four chefs to reach the final episode of BBC One's Great British Menu.