Dawn Raynor's Lake District kayak challenge for respite centre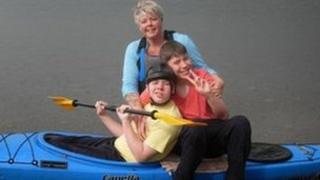 A mother of disabled twins is challenging herself to kayak around 13 lakes in the Lake District to help raise money to build a respite centre.
Dawn Raynor, from Moor Row in west Cumbria, has two sons with tuberous sclerosis, a condition which causes them to have several fits each day.
Although Callan and Ethan are 14 years old, they need constant care. Their closest respite centre is 20 miles away in Allerdale and only opens three days a week.
Mrs Raynor is hoping that by completing her challenge, she will raise enough money to help open a respite centre in west Cumbria to help other families facing similar challenges.
The 41-year-old said: "It is a complete utter nightmare. It is hard work... you can't relax around them at all, you're always on alert and I know that this isn't just my life, I know that this is a lot of people's lives in west Cumbria.
'Limited time'
"You can't do anything normal as such and this respite centre would give them that normality.
"I want them to climb trees, I want them to have everything that every other child has.
"I couldn't bear the thought of my kids ending their lives and not have had somewhere fun to go, because that would kill me."
Her charity Give us a Break hopes to have a piece of land gifted as they will need to raise about £1m to open the centre.
The twins both have behaviour problems and learning difficulties. Callan can have up to 20 seizures in one day, some of which can be "quite aggressive".
Mrs Raynor now works part time to look after her sons, who only receive respite care for one night per month.
"It's tiring but you have to just keep on smiling" she said.
"I choose not to let people see what is deep in me because if I was to walk around how I feel, I'd be a quivering mess.
"These kids are on limited time and time is not a good thing.
"There is times when you've felt at that very low ebb and you want to drive off the edge of a cliff.
"We've all been there and I know a lot of people probably won't admit to it, but we've all been there and it's a horrible place to be and this is why it is so important to get this done," Mrs Raynor said.
She said the "dream" was to build a safe environment for children with special needs to have fun in and to allow their parents to have a break knowing they are safe.
Cumbria County Council said there had been a "huge improvement" in services for disabled children over the past three years but admitted there were "still gaps" they hoped to develop.
Give us a Break has raised £15,000 since it began in 2010.
Mrs Raynor is taking part in the challenge with Martin Whitmill, from Cleator Moor, who kayaked from Cumbria to the Isle of Man with his dog Charlie.
She will have 48 hours to kayak the whole circumference of all the 13 lakes, with larger waters like Windermere and Ullswater potentially taking up to six hours to complete.
The challenge is set to take place on 8 and 9 September.