Cumbria department store Hoopers to close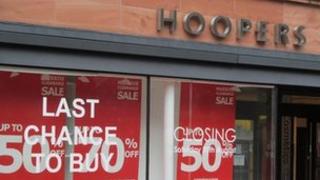 One of Cumbria's best known department stores will close on Saturday.
Signs have gone up at Hoopers in Carlisle to say it will cease trading from Saturday, 25 August, after five years at the former Bullough's building.
Hoopers management refused to comment on the closure, but a post on the store's website said: "A fond farewell from us all at Hoopers xx."
It is not yet known what the closure means for the 83 members of staff.
Edinburgh Woollen Mills is known to be interested in taking over the store, after it applied for a late-night alcohol and entertainment licence for the building, but no-one was available to comment on the latest stage of negotiations.