Kendal Highgate's £340,000 revamp enters second phase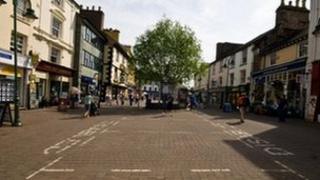 Work is set to start on the next phase of a £340,000 scheme to attract more visitors to a Cumbrian town.
The Kendal - Gateway to the Lakes Public Realm Project will see new paving, benches and bins, lighting and new plants in the Highgate area.
The project will also complete the pedestrian link from K Village shopping centre through the recently upgraded Kirkland into the town centre.
It is hoped it will encourage more people to explore the town on foot.
The project also includes a small area for market stalls and outdoor events, and increased crossing points for pedestrians.
Cumbria County Councillor Geoff Cook said: "Highgate is home to many shops and businesses and forms a vital part of the town's economy.
"This is going to have a big impact on the look and condition of Highgate which will encourage more people into this part of Kendal."
The project was developed by Kendal Futures with grants from South Lakeland District Council, Cumbria County Council and Kendal Town Council.
The work will begin on 3 September and will last for nine weeks.