Whitehaven Harbour sets the scene for 'fairytale' show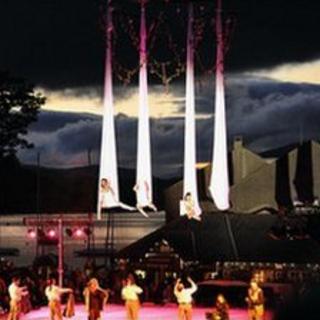 Whitehaven Harbour is to be brought to life as acrobats and dancers suspend themselves 40m (131ft) in the air for a unique show.
Supported only by a trapeze or a sheet of fabric hanging from a giant crane, Station is performed by an Argentinian, Spanish and Brazilian company.
It tells the story of a chance encounter at a railway station which leads to an aerial adventure.
Performer Nicole Dittmar said watching it was like "living a fairy tale".
The performance, which is accompanied with live music, will end with a firework display on Sunday.
Ms Dittmar said: "We are really looking forward to coming to Whitehaven. I think it will be a fantastic location.
"The show was first performed in Argentina in 2008, but it is still evolving. We have to adapt our performance to each space; every environment is different so each show is unique.
"I think the show appeals to people everywhere because watching it is like living a fairy tale; it makes people believe they can fly."
The free show is part of Lakes Alive's season of outdoor arts events in Cumbria.