Whitehaven Harbour Lakes Alive show cancelled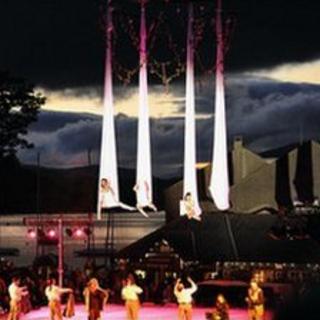 Organisers have apologised for cancelling an aerial display by acrobats above a west Cumbrian harbour due to the weather.
The decision to cancel the Lakes Alive event, called Voala, was made due to heavy rain and winds between 50 to 70mph forecast on Monday.
Julie Tait from, Lakes Alive, said: "It is one of the increasing vagaries of this awful weather in this country."
The free performance was due to be accompanied with music and fireworks.
The decision to cancel the show, which was first performed in Argentina in 2008, was made at 18:30 BST on Monday.
Ms Tait added: "I just want to extend a huge apology to those people who were excited about the event.
"We have had three consecutive years of aerial shows in Whitehaven which have been hugely successful with tens of thousands of people watching.
"We just hope that we can carry on with that support and come back and try again next year.
Lakes Alive has carried out more than 50 events in the county since 2009. It said this is the first one it has had to cancel.