Whinlatter Pass drivers ignore road closure signs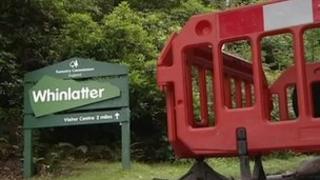 Drivers have been warned to obey closure signs on a partially collapsed Cumbria road after it emerged someone had moved them out of the way.
A section of the B5292 Whinlatter Pass collapsed following heavy rain on 30 August. It could be closed until the end of September.
Cumbria County Council said some drivers had used the route after signs had been moved and tampered with.
A badger sett was discovered by highway engineers beneath the road.
New hole fear
Councillor Tony Markley, the council's cabinet member for highways, said: "Removing barriers and signs is completely unacceptable and poses an enormous risk to drivers.
"We understand that taking a diversion is frustrating, but we're not just looking to protect the badger setts in this case, but also the public.
"The setts are less than five inches below the surface and the drivers who have blatantly ignored the closure are lucky that their cars haven't ended up in a new hole in the road.
"Any driver who drives through a road closure is not only breaking the law but is also liable for their own actions should they have an accident."
The Whinlatter Pass badger setts, which are protected by law, have been inspected by experts from Natural England and the county council hopes that a temporary solution can be put in place quickly while a license from English Nature for a more permanent solution is sought.