Lake District hikers saved after 13-hour rescue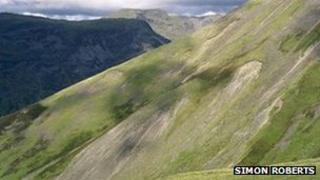 Three hikers have been winched to safety in Cumbria after they became stranded on a fell side.
The three men, all in their 20s, became disorientated while ascending Lingmell Crags in the Lake District.
Wasdale Mountain Rescue Team and Duddon and Furness MRT were called out at about 00:00 BST.
The teams waited for first light before lifting the stranded men 110m (360ft) up to a safer point on top of the fell from which they could safely descend.
The operation, which took 13 hours, involved 19 rescuers and two search dogs.
During the night, two members of the rescue team climbed the fell side to get to the group's location and made them safe while further team members were called out to assist.
Another team member was lowered by a haul system that was set up from the summit of Lingmell to reach the men.