High winds delay departure of Ambush submarine from Barrow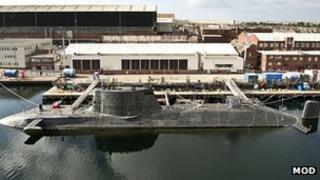 High winds have delayed the departure of the Royal Navy's newest nuclear submarine from its Cumbrian construction base.
It has taken almost 10 years to build the £1.5bn Ambush - the second of four planned Astute Class vessels.
It was due to leave the Barrow docks of builder BAE Systems on Friday morning for sea trials off the Scottish coast.
But winds of up to 30mph meant a road bridge could not be raised to allow the 7,400-tonne vessel access to the sea.
At 318ft (97m) in length, they can travel more than 500 miles in a day, allowing them to be deployed anywhere in the world within two weeks.
They can fire Tomahawk missiles as well as carrying out intelligence-gathering missions.
A Royal Navy spokesman said it was hoped the vessel would be able to leave later.