Campaigners fight Appleby HSBC bank closure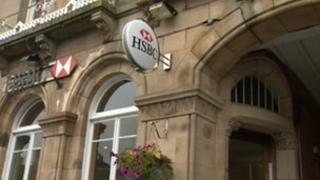 People living in a Cumbrian town are campaigning to prevent a bank from closing its branch.
The HSBC in Appleby is due to close at the end of November.
A public meeting was held amid fears the closure will damage trade from visitors coming to the town to withdraw money and also affect elderly people.
HSBC said it needed to ensure its branches were in the right places and use of the Appleby bank had fallen significantly in recent years.
Campaigners have set up an online petition.
Impact on elderly
Carl Bendelow, from Appleby Chamber of Trade, said: "We have lots of visitors to the town and they use the cash machines, no doubt about it, and if they can't get cash here they will go to a town where they can get cash and spend their money there."
Mayor of Appleby Councillor Dot Anderton said she was particularly concerned about the impact on elderly customers who would have to travel to branches in Penrith and Kirkby Stephen after the closure.
She said: "The majority of them now retire here and a lot of them don't drive anymore."
HSBC said its branches were important but it needed to close those with lower use.
In a statement the bank said: "Our branch in Appleby is a case in point. The branch is currently only open for limited hours during the week and not at weekends."
It said customer use had fallen "very significantly" over the past few years and it would support the branch's customers with the changes. Two members of staff will be transferred to other branches.