Wasdale Head electricity loss: Cable delivered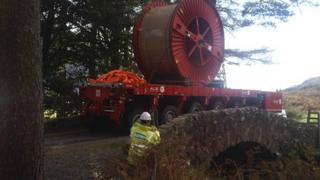 "Bespoke" cable has arrived at a remote Cumbrian village which has been without mains electricity since Christmas Eve.
The handful of homes and businesses in Wasdale Head have had to rely on generators since a fault developed in the power line under Wastwater.
Dense underground rock and the depth of the lake has thwarted reconnection attempts by Electricity North West.
With the arrival of a 19-tonne reel of specially-made cable, it is hoped it can be restored by the end of October.
It was initially hoped that a new power line could be laid under the narrow lake-side road leading to Wasdale Head.
'Engineering challenge'
However, the discovery of dense rock led to that plan being abandoned, so it was decided to replace the cable under the lake.
The road was closed for a number of hours earlier while the low-loader carrying 1.6km of cable made its way to the village.
Over the next few days it will be winched across the lake, and then be joined up to existing cables.
Jane Fleetwood, from Electricity North West, described it as a "challenge".
"There are three areas of special scientific interest," she said.
"So we've had to work with residents, the National Trust, and the council to come up with the best plan.
"It's a very, very complex engineering project, and we're delighted to say that the final stage is starting today."