Swallows and Amazons Bank Ground boathouse restored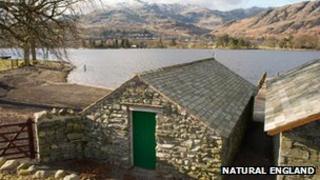 A Cumbrian tourist attraction that once inspired a popular children's author has been restored to its former glory.
The boathouse, at Bank Ground Farm in the Lake District, features in the 1930s children's book Swallows and Amazons.
Both it and its setting provided Leeds-born author Arthur Ransome with the idea for the story after spending family holidays there.
The film adaptation of the book was filmed at the site in 1974.
Jonathon Batty, from Bank Ground Farm, said: "Arthur Ransome has a huge following in Japan and we regularly have Japanese visitors arriving at the farmhouse asking to see the locations mentioned in their favourite books.
"It's amazing that such essentially English novels are so popular throughout the world, but it's certainly good news for boosting tourism in this part of the Lakes."
Until recently, the boathouse had rotting timber, a collapsed roof and bulging walls that were in danger of collapse. In 2009 it was submerged up to the roof line by floodwater.
The oak beams have now been replaced and repaired, the stone walls have been stabilised and the roof has been re-slated with olive green Westmoreland slates.
Joe Wilson, from Natural England, said: "The tourists who flock from as far afield as Canada, Australia and Japan to see the locations make a valuable contribution to the area's rural economy.
"I'm sure visitors will be delighted to see the boathouse has been sympathetically restored."