Cumbria Police special Martin McKay to leave the force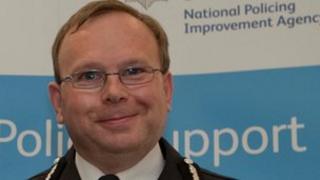 At the age of 49, Martin McKay has spent most of his adult life volunteering.
He has experienced the shock of colleagues being murdered and responded to a mass shooting during his time bolstering the thin blue line.
Now his two decades of being a police special constable are coming to an end this month after 14 years of service in the Territorial Army before that.
Mr McKay had always wanted to be a police officer but admits it was "a bit of a non-starter" when he left university due to the simple fact he wore glasses.
His eyesight did not prevent him working his way up to the position of Special Constabulary chief officer for Cumbria Police where he has been responsible for 155 other volunteers.
'Fights and fairs'
It was the end of the Cold War that prompted his move into policing with the North Yorkshire force.
"I'd been with the TA for about 14 years and things were disbanding and I had it in my mind that I wanted to do something a bit different," he said.
Mr McKay says the standing of the specials has grown considerably.
He said: "When I first joined we were very much second class citizens although I never came across some of the prejudice from regulars that some of my colleagues suffered.
"We were very much extras, we would turn up for shifts on a Friday and Saturday night, it was fights and fairs, we were an extra pair of hands."
Changes in the way specials perform their duties and are ranked by performance have made them feel much more valued and motivated, Mr McKay said.
Specials now carry out the same duties as their regular colleagues, run community teams and manage their own workload.
"In Cumbria you manage everything from cradle to the grave," Mr McKay said.
"If you lock someone up it's always your responsibility to get them to court."
During his time with the police Mr McKay has faced up to the harsh realities of policing on the front line.
Derrick Bird shootings
In 1992 he was on duty with a traffic officer in North Yorkshire close to where another special, Glenn Goodman, was killed by the IRA.
"I was on duty that night not more than a mile away," he said.
"And that really sort of made me think. I'd spent a lot of time as a part time soldier and never experienced anything like that.
"It motivated me to think 'I'm actually doing the right things'".
The 2010 Derrick Bird shootings in Cumbria rocked the community where Mr McKay lives.
"I actually lost two neighbours," he said.
"I came back home from work, put my uniform on and walked past two dead bodies that were laid on the pavement outside the house. We had to get out and help everybody else.
"I rang around my officers and had 60 out within minutes."
Mental health charity
One of his proudest moments as a special was overseeing the reaction to the flooding that hit Cumbria three years ago.
"I had officers in Cockermouth and Workington working for 36 hours without a break," he said.
"They lost their uniforms, their stations were flooded out but they just kept on going."
Mr McKay is standing down from the specials as he now spends the majority of his time in Glasgow through his full-time job with Scottish and Southern Energy.
But he is already giving up more of his time for a mental health charity.
"Volunteering is in my blood and I don't see that going away," he said.