PC Bill Barker's widow to meet Princess Royal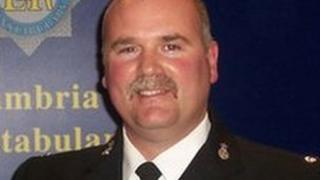 The widow of a policeman who died when a Cumbria bridge collapsed during flooding is to meet the Princess Royal.
PC Bill Barker was checking for people in the water when Northside Bridge in Workington collapsed in November 2009.
On Monday Princess Anne will officially open the new Northside Bridge and will meet PC Barker's widow Hazel.
The Princess will cut a ribbon and her vehicle will be the first to drive across the new bridge, along with local school children.
She will also meet people who were affected by the 2009 floods when unprecedented rainfall caused rivers to burst their banks, flooding towns and villages across the county.