Alfred Wainwright's first sketch celebrates 60th anniversary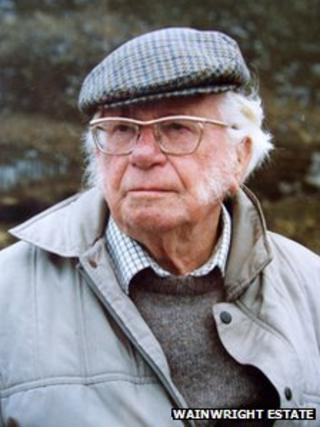 Sixty years ago, one man with a notebook, pen and ink in hand, started a 13-year journey to create the "love letters" to the Lakeland fells.
Born in Blackburn, Lancashire, in 1907, Alfred Wainwright MBE, explored the Cumbrian landscape for more than a decade, compiling ink drawings of 214 fells.
Formed into the Pictorial Guides to the Lakeland Fells, the series of seven books became an inspiration for fell walkers and have remained so 40 years later.
Eric Robson, chairman of The Wainwright Society, said: "He [Wainwright] described it as his 'love letter to the Lake District' and what a letter it is."
Wainwright began his journey on 9 November 1952 when he penned the ascent of Dove Crag from Ambleside for Book 1, The Eastern Fells.
Recalling the journey in his book, Fellwanderer, he wrote: "Somebody once said… that a journey of a thousand miles starts with the first step.
"November 9th 1952 saw my first step. It was a good evening for me. It was a winter's night, but I spent it going up Dove Crag and was lost to all else."
The Pictorial Guides were completed in September 1965, with Starling Dodd in the Western Fells the last in the series.
Mr Robson said: "He was way ahead of his time. He pulled off a trick that nobody else had pulled off before. He did something that was technically impossible.
"He took a three dimensional object like the Lakeland mountains and made it two dimensional to make it more understandable.
"The remarkable thing was, here suddenly, all the people who for generations had stood below the mountain tops saying 'I can't do that', he told them 'yes you can'."
'Enduring legacy'
The books have sold more than two million copies since their first publication in 1955 and are still popular today.
Mr Robson said: "He changed the lives of tens of thousands of people.
"They are so much more than guidebooks - it's a philosophy of the mountains.
"Why reinvent the wheel?
"It's as every bit as relevant to today's society as it was then.
"We have new generations taking to their first Wainwright walks who weren't even a twinkle in the eye when he wrote the books," said Mr Robson.
To celebrate the 60th anniversary of the first page on Friday 9 November, The Wainwright Society is holding a weekend of events, including a lecture from mountaineer Alan Hinkes.
It is also the 10th anniversary of the society, which was formed to keep Wainwright's memory alive and promote the guidebooks.
Mr Robson said: "We thought it was very important it wasn't lost to the generations.
"Keeping his memory alive is why the society is so important.
"He was a very shy man. He had a reputation of being grumpy, but he wasn't at all. He was kind, gentle and poetic.
"He has an enduring legacy and we should embrace it with pride."
Richard Greenwood, from Cumbria Tourism, said Wainwright is "very important" for the Lake District and his books have been a "catalyst" for people visiting for a holiday.
Alfred Wainwright died in 1991.