Census: Cumbria has Jedis but less central heating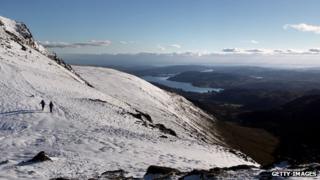 The 2011 census has already revealed Cumbria to be one of the most sparsely populated places in England and Wales - and getting more so.
Eden has the fewest people per square kilometre (25) and a higher proportion are leaving Barrow-in-Furness than anywhere else in England and Wales.
But a second release of census data by the Office for National Statistics casts even more light on the county's identity, religion, love and central heating.
Here is a light-hearted selection of some of the statistics easily missed on first reading.
Not necessarily Cumbrian
Many residents of Eden and South Lakeland think of themselves as British or English (they rank 4th and 6th respectively out of all places).
But across Cumbria more than 9,000 people think of themselves as only Scottish.
More than 1,500 people think of themselves as exclusively Welsh, more than 1,000 as only Northern Irish and 22 as solely Cornish.
Thomas Noblett, who runs a hotel near Windermere, lived in Cornwall briefly and said he often heard the distinction made between being Cornish and being English.
"Cumbria's a little bit like that. If you say you're not from Cumbria they look at you as if you are an outsider, an off-comer, a blow-in." he said.
Christianity popular, but alternatives are varied
Christianity is alive and well - especially in Copeland.
Nearly 80% of the population there call themselves Christian - second only in the census to Knowsley, Merseyside.
Most householders in Allerdale (75.4%) think of themselves as Christian too and the rest of the county is close on their heels.
Comparatively, there are not many people who described themselves as Buddhist, Hindu, Jewish, Muslim or Sikh.
But Cumbria is embracing the alternatives.
According to the census results, there are 1,288 Jedi knights, 415 pagans, 100 Wiccans, 80 worshipers of heavy metal, 33 Druids, 12 heathens, nine Satanists, nine Scientologists, six Shamanists, three Occultists, one Mystic and one person describing themselves as a free thinker.
Adrian Hughes, who runs a cycle shop in Barrow, listed himself as a Jedi knight in light-hearted protest at being asked a question he thinks the census had no right to ask.
"That's personal to us. We don't want to display what we are and what we're not," he said.
"It's like putting down we're a Jew so we've got to wear a badge."
It is not clear how many of the claimed adherents to other religions were making a similar point.
Cumbria 'rosy cheeked' and 'hardened'
Barrow-in-Furness is beaten only by the Isles of Scilly when it comes to the number of households without central heating.
At nearly 8% it is almost three times the national average.
In Cumbria as a whole nearly 9,000 households keep themselves warm - or not - without the aid of radiators and a boiler.
Cycle shop owner Mr Hughes relies on electric fires and said many also used wood burning stoves because they "can't afford the gas bills".
But it has its advantages, he thinks, because central heating "dries your skin out".
"You don't have nice rosy cheeks like all us hardened lads up here do."
Love and affection
Anyone looking for love of a traditional variety could do worse than move to Cumbria.
In Eden and South Lakeland more than half of the population over 16 are married.
That is 54.4% and 53.0% respectively, compared with a national average of 46.6%.
The number of singletons in the county is lower than average too.
Across Cumbria, 29.1% are single, never married and never registered in a same-sex civil partnership, compared with 34.6% nationally.
However, Barrow-in-Furness spoils the fairytale a little with a spike in divorce rates well above average.
With 11% of the population over 16 divorced, it ranks 12th in England and Wales.
Curiously, the top five areas with the highest proportion of divorce are all also by the sea.
Note: Statistics, and references to averages, relate to England and Wales unless stated.