Fingerpost signs in Cumbria to be restored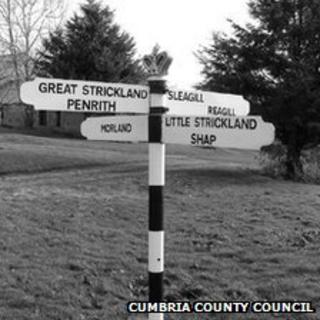 Traditional road signs which "add to the character and identity" of villages in Cumbria are to be preserved.
The county council is spending £20,000 on starting a seven-year programme of restoration of fingerpost signs across the Eden area.
It has already listed the location, condition and estimated cost of repair for each known sign.
The total cost of restoring all of the remaining signs is £137,000, and parish councils are being asked to contribute.
Traditional fingerpost signs usually consist of a cast iron post with black and white bands, and cast iron "fingers" giving directions.
Once a common sight across the country, most were removed and melted down during World War II.
There are about 150 still in existence in the former Cumberland and Westmorland council area, dating back to the late 1940s or early 1950s.
'Link to the past'
Many are in a neglected condition, suffering from rust, and with damaged or missing arms.
Although fingerpost signs are the responsibility of the county council, some have previously been restored by parish councils, often with the assistance of grant funding from the Local Member Schemes budget.
Councillor Martin Stephenson, Chairman of Eden Local Committee, said: "Traditional fingerpost signs are part of our highway heritage and contribute to the distinctiveness of the local area.
"Maintaining and restoring these signs will protect them for many years to come and ensure our rural communities retain some of their character and a link to the past."