Tasered Dale Burns 'killed' by designer drug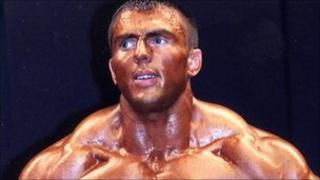 The inquest of a bodybuilder who died after being Tasered by police has been told that a designer drug he had taken was responsible for his death.
Dale Burns, 27, suffered a heart attack following his arrest at his home in Barrow, Cumbria in August 2011.
Dr Richard Shepherd, the pathologist who carried out the post-mortem examination said there were traces of the drug known as Madcat in the body.
He said he could find no other factor which would have caused the death.
The hearing at Kendal County Hall had earlier been told that the former nightclub doorman had been Tasered four times in less than a minute and pepper-sprayed in the face during a violent struggle with police.
'Premier League'
Dr Shepherd said that the Taser was used more than an hour before Mr Burns went into cardiac arrest, so he ruled out a direct connection.
Therefore, by a "process of elimination" the drug - methylenedioxypyrovalerone - was the cause.
David Lock, QC for Mr Burns's family, asked whether struggling against the police restraint could have been a factor.
Dr Shepherd said that if he put the cause in a league table, the drug would be Premier League, and he would place the effects of restraint down the table.
The inquest continues.