Border City Steam Fair cancelled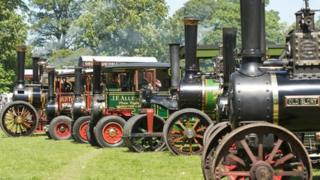 A steam fair which attracts about 10,000 visitors to Cumbria has been cancelled for the foreseeable future, its organisers have said.
The Border City Steam Fair has taken place at Rickerby Park since 2009.
But Cumbria County Council accepted external funding for green spaces from Defra on the condition that no events are held on them.
The agreement included Rickerby Park. The council said it had offered alternative locations.
However, the organisers said that none were suitable.
Mel Forster said: "I doubt that we will resurrect the fair.
"We enjoyed running it in Rickerby Park, Carlisle, as we are from that area and liked the community spirit that as involved.
"It was also a beautiful site for such an event which is one of the main reasons that it took off."
A spokesperson for the council said it "could not pass up the opportunity" to accept about £220,000 of funding from the Department for Environment, Food and Rural Affairs (Defra) to help care for parks and green spaces in the county.