Leo Houlding team conquer 'wolf's tooth' peak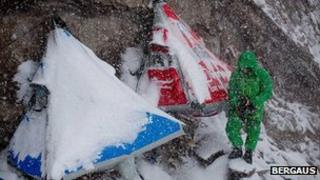 Cumbrian climber Leo Houlding is returning to the UK after leading the first team to the summit of one of Antarctica's most challenging peaks.
The 32-year-old Lake District based adventurer is already a veteran of at least 20 ascents, including Everest.
But he said the latest, on the jagged and treacherous Ulvetanna (wolf's tooth in Norwegian), was one of the toughest.
It took the five-man team five weeks to become the first to climb the peak's 4,200 ft (1,300m) North East ridge.
The team, led by Mr Houlding, included fellow Britons Jason Pickles, Chris Rabone and film-maker Alastair Lee, as well as American Sean Leary and South African David Reeves.
'Decade of dreaming'
The granite peak is considered to be one of the most demanding in Antarctica and according to Mr Houlding "one of the last great climbs."
Ulvetanna is in the frozen wilderness of Queen Maud Land in Eastern Antarctica, where it is considered by mountaineers to be a formidable climb in the coldest, driest, windiest place in the world.
Mr Houlding described the conditions as "savage" with temperatures dipping to almost -40C at times.
He said: "We've all been pushed to our limits, taken a beating but come out top.
"A decade of dreaming, a year of planning, a month on the ice, and week on the wall and we have done it. It is just starting to sink in that we have succeeded and are safe.
"We reached the epic, pointy summit in -35C with wind chill, wearing thick beards of ice, and hearts full of joy. The cloud even broke for five minutes dousing us in sun as we surveyed the panorama.
"This thing has been by far the most intimidating project we've ever undertaken.
"Because of the extreme Antarctic conditions we had to take more equipment than usual and move it around icy and jagged slopes.
"To be honest it wasn't until the later part of the trip that we actually thought we were going to succeed.
"Ulvetanna is basically a giant fang that sticks up out of the ice and the climb we did took in bits that were at a 45 degree angle and just half a metre wide with a 600m drop on each side. A bit like climbing the back of a dinosaur.
"To be the first team to ever tread that path was a rare privilege."
Mr Houlding and his team are due back in the UK on Saturday.