Dale Burns inquest: hospital staff 'did all they could'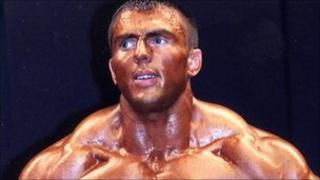 Hospital staff "did everything they could" to save a bodybuilder who died after he was Tasered by police, an inquest has heard.
Dale Burns, 27, suffered a heart attack following his arrest at his home in Barrow, Cumbria in August 2011.
Dr Lawrence Jaffey, from the Royal Liverpool Hospital, was asked to assess how staff at Furness General Hospital treated Mr Burns.
He told the inquest he could not think of anything more they could have done.
The hearing at Kendal County Hall had earlier been told that the former nightclub doorman had taken a designer drug known as Madcat.
Police were called to his home after he wrecked his bathroom and during the course of a violent struggle he was Tasered four times in less than a minute and pepper-sprayed in the face.
Dr Jaffey told the inquest that dealing with the powerfully-built patient would have been "a frightening situation" for staff.
When taken step-by-step by the coroner through the treatment Mr Burns received, Dr Jaffrey said at each stage that it was appropriate.
The inquest continues.