Sellafield admit disposing radioactive waste at wrong site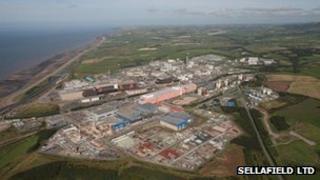 Sellafield nuclear firm has pleaded guilty to sending bags of low-level radioactive waste to a landfill site.
Sellafield Limited admitted sending four bags from its plant to Lillyhall landfill in Workington in April 2010.
The bags, which contained waste such as plastic, wood and metal, should have been sent to the Low Level Waste Repository, at Drigg.
Tests by the Environment Agency (EA) have since established there was no contamination at the landfill site.
The company will be sentenced at Carlisle Crown Court on 8 March.
All four of the bags were retrieved from the landfill and returned to Sellafield for correct disposal.
Sellafield said the error was caused by a new monitor which had passed the bags as "general" waste making them exempt from strict disposal controls.
The company is being prosecuted by the EA and the Office for Nuclear Regulation.
Ian Parker, nuclear regulation manager for the EA, said: "This work of decommissioning and clean-up of the site is a national priority.
"We will continue to work with Sellafield Ltd, fellow regulators and the Nuclear Decommissioning Authority to ensure that, in meeting this challenge, Sellafield Ltd maintains high standards of environmental performance to protect people and the environment."