Furness abbot's crozier gallery appeal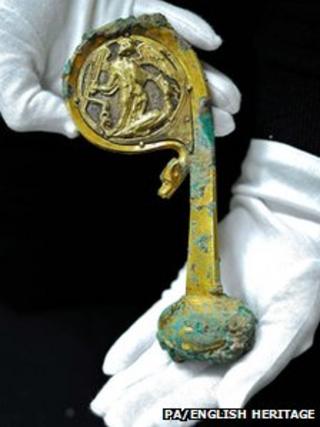 Campaigners hope to raise up to £6,000 for a secure cabinet to house a medieval abbot's crozier and ring unearthed at Furness Abbey in Cumbria.
The jewelled ring and silver-gilt and copper crozier, or crook, were found in the grave of an unknown abbot in 2010.
The grave's position inside rather than outside the monastery suggests he held a prestigious position in the church.
Founder of Furness Abbey Fellowship, Gill Jepson, said it was important the artefacts remained at the abbey.
"It is one of the most significant Cistercian monasteries in the country but, because of where we are placed geographically, it gets less of a profile than it probably should," she said.
"Since the treasure was found, during the weekends that they displayed it, I think visitor numbers shot up to 1,500, which is fantastic."
Ms Jepson said she set up the fellowship to help English Heritage, which runs the abbey, raise funds and encourage visitors.