M6 closed as lorry left hanging over Calthwaite Bridge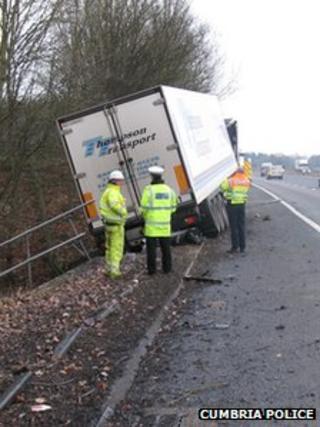 Police closed part of the M6 near Carlisle after a HGV trailer was left hanging over a bridge.
The vehicle, which was carrying about 10 tonnes of food, was described by police as being in a "precarious position" on Calthwaite Bridge.
Two lanes of the northbound M6 and the road passing under the bridge were closed for the recovery operation.
No-one was hurt in the incident, although the HGV driver was taken to hospital as a precaution.
A Cumbria Police spokesman said: "We received a report of a large goods vehicle having left the main carriageway of the M6 travelling northbound at Calthwaite and coming to rest hanging over a road bridge.
"Officers from the Roads Policing Unit, together with a vehicle examiner attended the scene and found the articulated vehicle hanging precariously from the bridge.
"The road passing under the bridge was closed. The air ambulance attended the incident to check on the driver who was taken to Cumberland Infirmary in Carlisle for a check-up.
"We are still investigating how the incident occurred and would like to speak to any witnesses."