Carlisle mother fights against locked-in syndrome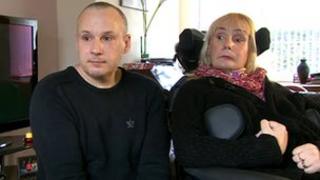 "Don't give up" is the message from a Carlisle mother with locked-in syndrome.
Nicola Watson, 44, had a stroke in 2009 that left her with a condition that has left her unable to speak or move.
Staying in Cumberland Infirmary, the mother-of-two could only communicate by blinking and only had a slight movement in her right arm.
However, that did not stop her friends and family wanting to bring her home and to do so they had to raise money to modernise it.
With fundraising events including walking on hot coals and donations they managed to raise more than £30,000.
Now Mrs Watson is back home in Carlisle and is able to control lights, blinds and heating with remote control devices.
She now hopes to get equipment to be able to use a computer and write a book about her fight.
'Never talk again'
Her husband Neil remembers the day he found out about the syndrome.
He said: "I'd never heard of what locked-in syndrome was. It was a struggle to look into it.
"You didn't want to look into it because it was so dire.
"We were told Nic would probably never talk again, never eat again, but you keep that hope that she's one of the few percent that does make a recovery.
"There is hope, that's the message we're trying to get across."
Mrs Watson has been able to regain some speech and said it felt good when she realised she could make sounds again.
"It felt good and I can tell the kids off again," she joked.
The couple's two teenage daughters have helped to look after their mother as part of the 24-hour care that she needs.
Daughter Hannah said: "She's an inspiration, she was really ill, nobody saw hope for her but she seems to have fought for it because of us."