Tebay rail deaths anniversary: Ceremony held at memorial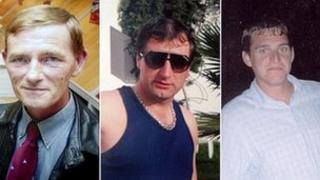 Rail workers and union officials are gathering in Tebay in Cumbria on the ninth anniversary of the death of four colleagues in an accident.
On 15 February 2004, a faulty 16-tonne wagon broke free and sped down Shap Summit killing four men working on the West Coast Main Line.
A commemorative event is being held at midday at the site of a memorial stone marking the tragedy off the A685.
Network Rail said it was spending £5m improving the safety of wagons.
A spokesman said new vehicles designed to safeguard railway workers were currently being trialled.
The men were hit by the trailer carrying rail lines which had come loose at Tebay Old Yard, between Kendal and Penrith.
'Chance to escape'
Gary Tindall, 46, from Tebay, Chris Waters, 53, of Morecambe, Lancashire, Colin Buckley, 49, of Carnforth, Lancashire, and Darren Burgess, 30, of Carnforth all died. Five others were injured.
Two men, working as subcontractors for Network Rail, were found guilty of manslaughter through gross negligence at Newcastle Crown Court in 2006.
Mark Connolly, 44, of Anglesey, north Wales, was jailed for seven years and Roy Kennett, 29, of Maidstone, Kent, was jailed for two years.
The Rail, Maritime and Transport (RMT) general secretary Bob Crow said: "In order to prevent another tragedy happening again, RMT representatives have been working to secure some form of secondary protection for track workers.
"We want to give workers a chance to escape with their lives should all the other systems fail."