Eden Valley residents vote for greater planning powers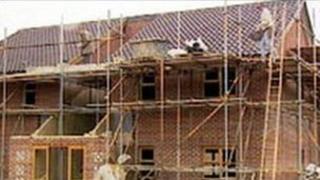 People in a Cumbrian community have become the first in the country to support the introduction of greater planning powers for parish councils.
The local planning referendum in the Eden Valley was the first to be held in England.
Of the 1,452 votes cast, 1,310 were in favour of the plans - more than 90%.
Under the legislation a group representing residents and businesses will be able to draw up their own plan for housing and development.
Upper Eden Community Plan chairman Tom Woof hailed it as a "marvellous result".
"It means that local people will be able to find housing much more easily that suits them, that parishes will have much more say in the types of development that are occurring in their villages," he said.
"The type of development is going to better suit the needs of the people who live here."
Turnout for the referendum was 34%.
The neighbourhood plans cannot be used to block developments outright, or override the strategic objectives of the local district council.
But the government says they will provide an opportunity for people to influence decisions on where homes are built and what they look like.
Rory Stewart, Conservative MP for Penrith and the Border, said: "It's amazing news, this is a national first.
"The Cumbrian community has taken power and they are going to determine their own planning and it's incredible. The whole country is looking at this."