Hoopers Carlisle store closes doors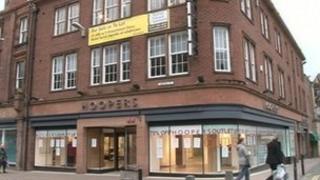 A troubled Carlisle department store has closed its doors for the final time, with the loss of 23 jobs.
Hoopers was temporarily closed in August, because of "lack of profitability", and a buyer was sought.
For a time there was hope it would be taken over by Edinburgh Woollen Mill but negotiations fell through. It then reopened as a discount outlet.
A spokesman for Hoopers said it was "not viable in financial terms" for the store on Castle Street to remain open.
The company also has stores in Torquay, Wilmslow, Tunbridge Wells and Harrogate, which are unaffected by the closure.