Tourism hope from boot-decorated tree in Kirkby Stephen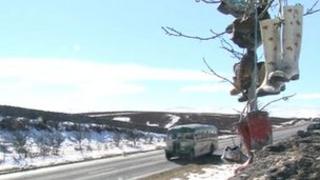 There are hopes an oddly decorated tree in Cumbria could play a part in boosting tourism.
The small ash, at the side of the A685, near Kirkby Stephen, was spotted with a pair of boots dangling from its branches last year.
More items of footwear have since been added, anonymously.
A local group, which aims to promote the market town as a destination for walkers, is hoping that it will encourage people to stretch their legs.
In 2009, Kirkby Stephen became the first town in Cumbria to be awarded Walkers are Welcome status.
The national scheme involves a commitment to surveying local paths and improving facilities for walkers.
'Cars beeping'
It also aims to encourage visitors to use public transport as much as possible.
Anne Sandell, from Kirkby Stephen Walkers are Welcome, said: "It was only a couple of pairs of boots to start with, and it's really grown since then.
"People have started beeping as they come past in cars.
"We'd like to promote walking tourism, so it's quite an attraction, as it shows who we are."
However, motorists were warned not be be distracted by the sight.
Professor Stephen Glaister, director of the RAC Foundation, said: "Drivers have a duty to keep their wits about them at all times, whether they are passing the Angel of the North, a shoe tree or any other landmark."