Gordon Park 'Lady in Lake' killer 'read about Shipman suicide'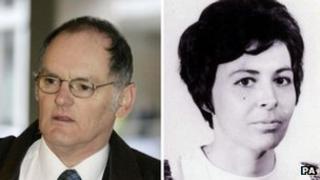 The "Lady in the Lake" killer found dead in his cell had previously seen a report into the prison suicide of Harold Shipman, an inquest has heard.
Gordon Park was jailed for life in 2005 for the murder of his wife, Carol, nearly 30 years earlier.
Park continued to maintain his innocence and in 2008 lost a bid to challenge his conviction.
He was found unconscious in his cell at HMP Garth, in Leyland, Lancashire, on his 66th birthday in January 2010.
The inquest jury at Preston Coroner's Court was told that a plastic bag was over his head and a cord was around his neck.
Giving evidence, his third wife, Jennie, said her husband had asked her to send the official report into the suicide of mass murderer Harold Shipman but she did not know why he wanted it.
She said he was "shocked" at the failure of the 2008 appeal against his conviction and had been upset that regular visits from a prison pastor had been stopped.
'No control'
Asked by Preston Coroner Dr James Adeley how his behaviour changed, she said: "In his whole demeanour.
"In the way he walked in, that was the last straw and they have stopped this.
"The fact they had done this and had not given any reason.
"Something else that had happened to him that he had no control with."
Park, from Leece in Barrow, Cumbria, had claimed that Carol, his wife of nine years, had vanished from their home to live with another man in July 1976.
Park was arrested and charged with her murder but the case against him was dropped in January 1998 when the Crown Prosecution Service said it did not have enough evidence against him.
An amateur diver found her body in Coniston Water 21 years later.
He denied murder but was convicted following a 10-week trial at Manchester Crown Court, and sentenced to life with a minimum term of 15 years.
At the time of his death, his family were battling to refer his case to the Criminal Cases Review Commission, which investigates possible miscarriages of justice.
The inquest, which is expected to last four days, continues.