Gordon Park death: 'Lady in Lake' killer upset by church visit ban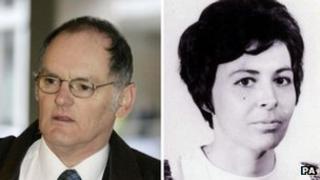 A killer found dead in his cell in Lancashire had been upset after visits from a church elder were banned, an inquest has heard.
"Lady in the Lake" killer Gordon Park was jailed in 2005 for murdering his wife, Carol, nearly 30 years earlier.
An inquest jury at Preston Coroner's Court heard prison visits from an evangelical church elder had been stopped weeks before his death.
Park was found unconscious in his cell at HMP Garth, in Leyland, in 2010.
He had continued to maintain his innocence and in 2008 lost a bid to challenge his conviction.
The inquest was told that, Park who died on his 66th birthday, was found with a plastic bag over his head and a cord around his neck.
His trial heard how he bludgeoned Mrs Park to death with an ice axe in July 1976 and dumped her in the lake near the family home in Leece, near Barrow-in-Furness.
Her body was found by amateur divers 21 years later.
'Nature of the game'
Park was arrested and charged with her murder but the case against him was dropped in January 1998 when the Crown Prosecution Service said it did not have enough evidence against him.
But the retired schoolmaster was arrested again in 2004 and was convicted of murder the following year at Manchester Crown Court and jailed for life, and told he must serve a minimum of 15 years before being considered for parole.
The hearing was told Park had been having regular pastoral visits from George Harrison, of the Pendlebury Evangelical Church in Swinton, Greater Manchester, whom he first met during his trial.
But prison authorities stopped Mr Harrison from seeing Park a month before the inmate's death after they ruled he did not fit the criteria of a pastoral visitor and that Park's religious needs could be met through its chaplaincy service.
Fellow prisoner Andrew Holliday told the jury that Park was "wounded" by the decision and said he thought he might take his own life.
He said: "It is the nature of the game when you are a life sentence prisoner - you think about it."
Another inmate, George Youness, also thought that Park would harm himself.
He said: "He would say 'it's useless, they are not going to accept I'm innocent, they are going to keep me inside'."
In November 2008, the Court of Appeal rejected an application by Park for leave to appeal against his conviction.
Youness said he noticed Park was depressed and reported the matter to prison bosses. Park was moved to a hospital wing where he was put on suicide watch.
The inquest continues.