Duchess of Cambridge visits Lakes scout camp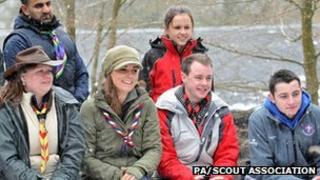 The Duchess of Cambridge showed she was fully prepared for the snow when she braved the cold conditions for a visit to a scout camp in the Lake District.
Catherine joined Scout Association volunteers as they trained at the Great Tower Camp near Newby Bridge.
The duchess, who is also a trained volunteer, helped out with scouts from Manchester and Cumbria at the 250-acre activity centre close to Windermere.
The groups tried fire lighting and tree climbing under Catherine's guidance.
The Scout Association is hoping the visit by one of the country's most high-profile figures will encourage other young adults to get involved in scouting.
Change society
More adult volunteers are needed for the 35,000 young people currently waiting to join the movement, which already has well over half a million members.
Catherine, who is keen on volunteering, helps out at a scout group close to her home in North Wales.
UK Chief Scout Bear Grylls said: "The duchess has an incredibly busy life yet, since she joined the scouts, she has so generously managed to volunteer to help out and get involved with her local group.
"Over the last few years it has been our mission to make it easier for adults to give as much or as little as they are able. It is how we change our society, many people doing a little bit."